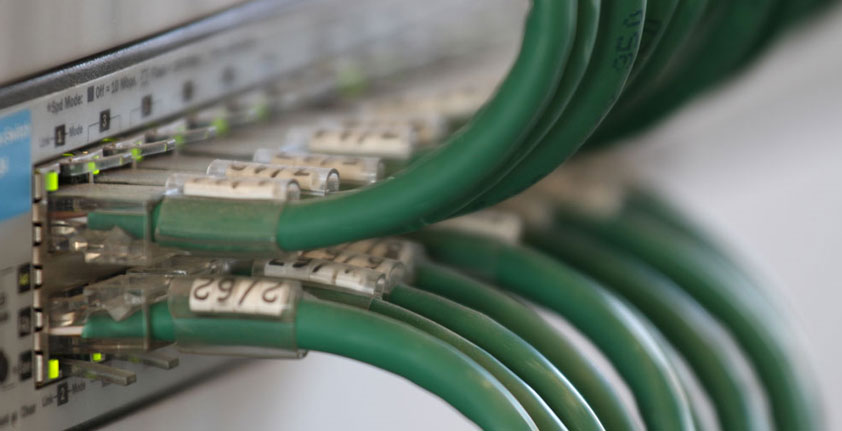 Patch Panels

Patch Panels are the brain of the network, pulling together a lot of partners and routing information quickly to where it needs to be. They serve a central role in the administration of the telecommunications network. Missing or broken patch panel, you'll be wishing you thought about hiring a professional network installer. They'll find out based on a few simple questions regarding your business, growth, and budget, which network installation would a make the most sense for now and long term putting all the factors into place. Read on for more details on what those additional factors include.
Copper or Fiber?
So what is this Copper vs. Fiber cabling noise all about? It's a lot like referencing the pony express as a legitimate means of delivering a message. It is slower, but doesn't require the technical requirements of other instruments in play and the costs are considerably lower. Fiber costs more, but the installation costs are comparable. Granted, copper still gets the job done, but if your company is competing globally in a business that requires speed, Fiber is the way to go. Cat6A shield allows speeds up to 10 Gig and is more than enough bandwidth for any network workstation . Many companies use Cat6A shielded from their IDF ( patch panel closet) to work stations , while interconnecting IDFs to the MDF ( where the servers are ) with fiber.
What Do I need to make this work for me?

A work station with a port, generally each workstation gets two. One can be Cat6A , if budget does not permit , Cat6 for the computer, while basic Cat6 will be fine for the IP Phone. However, maximum future proofing would be all Cat6A. Typically, a 2 or 4 post rack for your patch panels will have the panels themselves, with 24 ports . We like to use keystone ports for maximum flexibility and modularity. Nobody likes a hot mess of wires, so cable management is about planning an installation that will keep your patch panels easy to access and modify for future growth. Switches, Access Points, POE, Routers , or Layer 3 switches, are the superhighway of network traffic.
A good Wireless Access point system will have a wireless controller that will "tell" devices connected to the access points when to switch from one access point to another. This is called the "hand off", or seamless roaming and allows strong signal and fast speeds to always be maintained. Without a controller, mobile devices or tablets may want to "stick" to access points too long, while the signal is degrading as they move, and not switch over to a stronger access point closer to their location.
How do I get started?

The Installation Process can vary greatly from client to client, but while some can be more time consuming than others, they are all equally as challenging. In the end, whether a client chooses copper or fiber, a proper plan must be in place with set expectations on delivery time. Let Sound Decision package it all together and provide you with an outlined network plan that provides you an affordable solution that fits your current and future business needs. Stay sweat free this year and let us decide which panel costs, port costs, vs. the cost of potential network failure makes sense for you.