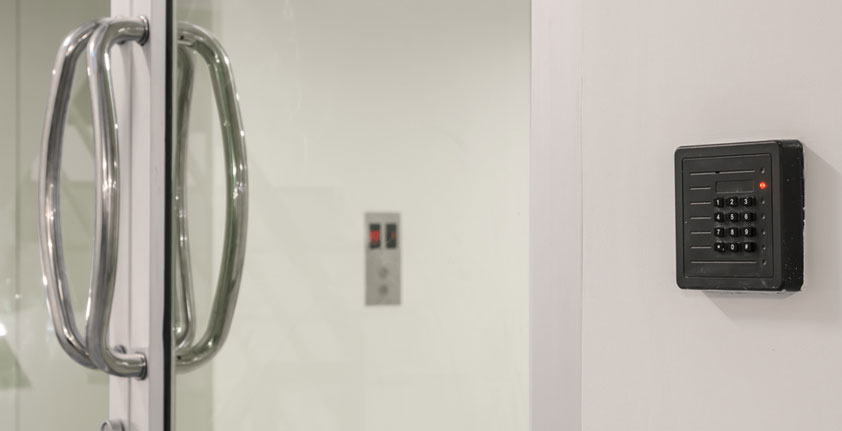 Access Control
Keeping your facility, assets, employees and family protected is a top priority. Sound Decision can install the access control you need to secure your property and the items and people within it.
Controlling the entrance to your entire property can keep your immediate surroundings secure. Controlled gate systems can allow access via cards or a remote sensor to view the area and allow access manually. Restricting public access to your property is the first layer of security to keep your assets safe. Employees will feel safer and be more productive knowing they are in a location that is not accessible to anyone.
Giving specific employees access to certain areas and restricting access for others can be achieved using an access control system. Areas that require greater security can be regulated for varying clearance levels. High value assets or technology systems can be kept secure.
Residential access control can keep your family and property safe from intruders. Securing the perimeter of your property helps you to feel safe and secure in your own home. View the entrance of your gate from the security of your home and allow access remotely. The areas within your home can also be in need of access control if you have items or information that is sensitive or private. Securing certain rooms or areas can be done with ease from a central systems location.
You have valuable property, people and information that need to be secured. Installing access control systems can keep unwanted visitors out and allow access only to certain individuals within. Give yourself control of your surroundings with the ability to grant or deny access whether you are on your property or accessing your system remotely.
How do I get started?

Access Control Installation can vary greatly from client to client, but while some can be more time consuming than others, they are all equally as challenging. Let Sound Decision package it all together and provide you with an outlined network plan that provides you an affordable solution that fits your current and future needs.